OPAD learned about the overwhelming cost of the global water crisis and decided it was necessary to access water for the thirsty because 1 in 9 people lack access to clean water, 48% of people in sub-Saharan Africa lack clean water, Every 90 seconds a child dies of a waterborne disease, Women and children walk up to 6 hours each day to fetch water, 1,000,000 deaths from disease, 260 trillion dollars in economic loss.
Water Resources, Sanitation, and Hygiene
Access to safe drinking water and sanitation reduces mortality and morbidity; improves economic productivity; and empowers the most at-risk populations, particularly girls and women. Palladium aims to alleviate extreme poverty and improve the well-being of people by scaling up access to safe water, sanitation, and hygiene. We use a multi-faceted approach that operates on many levels – policy and political will, civil society advocacy, and private sector involvement – working with various stakeholders to implement high-impact, evidence-based solutions.
We address issues of water resources within the context of climate change and social inclusion, and where appropriate we leverage public-private partnerships and social marketing initiatives to harness the power of the market for positive social impacts.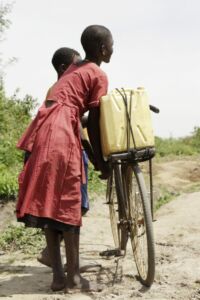 Specific areas of expertise include: water supply, storage and treatment; household and community sanitation; hygiene promotion; integrated water management; solar energy development, metrological centre development, and bio-latrine development. Irrigated agriculture; river basin and watershed management and water policy and advocacy. Enabling Structures/policies to be responsible for rivers, lakes , oceans and lakes, support a wide variety of projects in many fields of endeavor, including but not limited to environmental initiatives that are working to help eliminate pollution and to save the planet's ecosystems, community efforts that create models of social sustainability, educational innovations that prepare youth to become the socially responsible leaders of the future, and strategies that offer economic improvement and opportunities. OPAD mostly promotes projects that are replicable so that excellent ideas and work can multiply and benefit many.